Short answer: COVID-19 is not a qualifying condition for getting a medical marijuana card in Arizona, however, some studies show the effectiveness of cannabis in the treatment of COVID infection.
Please note this article is for educational purposes only. Covid -19 is not a qualifying condition for cannabis in AZ. Cannabis is already widely used and largely accepted in Israel as a medical treatment for a number of conditions. Lately, Israeli scientists are exploring whether cannabis is also beneficial for another medical purpose: treating COVID-19.
The cannabis plant contains many types of active ingredients known as cannabinoids. CBD, or cannabidiol, is one of them. While THC is, perhaps, the most commonly known of cannabinoids, CBD does not induce a psychoactive effect, or "high," the same way that THC does. It does, however, possess many of the same therapeutic properties, including proven efficacy in treating pain, anxiety, movement and cognition disorders. This makes CBD a potentially more practical and widespread medical treatment for many patients than THC.
Among the many therapeutic properties of CBD is anti-inflammation, which modern scientists have already proven in animal research. Scientists now believe that, due to these anti-inflammatory properties, CBD may also be useful as a potential treatment for COVID-19. That, along with the previously studied antiviral properties of CBD and related benefits for the immune system, has led to the development of many promising research initiatives to combat the prevailing COVID-19 crisis.
In this article about cannabis and coronavirus, you'll discover the latest research taking place on the possible benefits of cannabis for COVID-19 patients. Specifically, researchers in Israel have started conducting three separate clinical trials studying the possible uses of CBD to treat COVID-19. A fourth Israeli study examines the antivirual properties of cannabis terpenes in treating COVID-19.
There is, perhaps, no more fitting a place for such research to take place than in Israel, home to Raphael Mechoulam, the pioneering scientist who discovered and named THC and CBD.
Read also: Can You Get a Medical Marijuana Card for Anxiety in Arizona? 
Study 1: InnoCan Pharma and Tel Aviv University
Tel Aviv University and InnoCan Pharma are collaborating to infuse CBD as medicine through use of exosomes. Exosome are the tiny cellular structures the multiplying of stem cells creates. Through this rather unconventional technique, researchers hope to use these exosomes to home in on cellular organs the COVID-19 coronavirus has damaged. From there, researchers suspect that the anti-inflammatory properties of the CBD these exosomes carry will then apply a synergistic effect to fix the damaged cellular structures. Since COVID-19 is a respiratory virus, COVID-19 patients will received these exosomes enriched with CBD via an inhalation device.
Under the collaboration of InnoCan and Ramot, Tel Aviv University's technology transfer arm, two groups of researchers led by specialists in exosome tech and neuroscience will work toward developing a new COVID-19 exosome-based therapy that acts on the central nervous system.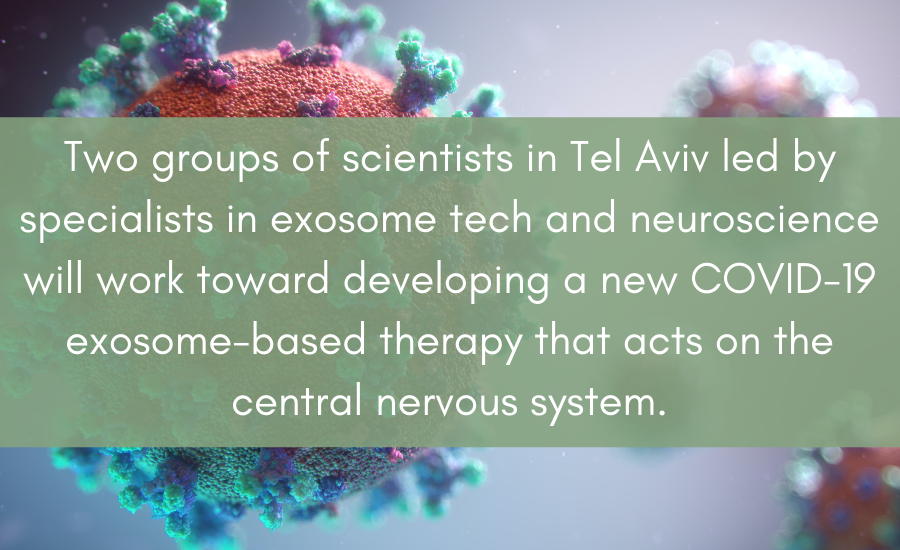 Study 2: Rabin Medical Center
A study being conducted by a collaboration of Stero Biotechs, a clinical-stage cannabis formulation, research and development company, and Mor Research Application, an arm of Clalit, Israel's biggest health provider, involves 10 patients currently undergoing treatment for COVID-19 at Rabin Medical Center. In the study, researchers will combine CBD with traditional steroids to determine whether CBD may boost the therapeutic effectiveness of steroids in reducing coronavirus-related inflammation. It will examine the safety, efficacy and tolerability of CBD treatment for hospitalized COVID-19 patients. While medical cannabis is already widely used and accepted throughout Israel, it is not so prevalent in hospitals.
By applying CBD's anti-inflammatory properties to help reduce tissue and lung inflammation in patients with COVID-19, Steros also hopes to help cut down on the amount of steroids needed to treat the illness. Steroids are commonly the first or second treatment line applied to patients admitted to hospitals. As steroids often come with a range of potentially devastating and even lethal side effects, including osteoporosis and fragile bones, this could also help cut back on the side effects associated with treating COVID-19. Steros already garnered a patent for a treatment that uses CBD to reduce steroid use, back in August 2018.
If the experiment proves successful, the researchers are already prepared to expand the experiment to 40 more COVID-19 patients. As COVID-19 patients in hospitals are commonly receiving steroid-based treatments, scientists believe incorporating CBD into the treatment program could improve outcomes for patients whose lives are in immediate danger.
Study 3: Ichilov Medical Center
Researchers at Ichilov Medical Center are studying the anti-inflammatory properties of CBD to see if they can reduce lung infections and other respiratory symptoms that moderate COVID-19 patients experience. Researchers believe CBD may help quash the "cytokine storm" associated with a COVID-19 infection or other serious respiratory infection. In a cytokine storm, the body's immune system gets overstimulated and ends up releasing an excess of cell-signaling proteins known as cytokines. These extra cytokines may then attack healthy cells as well as diseased cells, including healthy lung cells, potentially resulting in lung failure.
The Ichilov Center study is being conducted under the leadership of senior anesthesiologist and coronavirus management head at the hospital Dr. Barak Cohen, who has written previous studies on marijuana, including a comparison of natural vs synthetic strains. In addition to examining the anti-inflammatory properties of CBD, this study will also examine the anti-viral properties to see if they can help impede the coronavirus's spread.
Read also: How to Qualify for an Arizona Medical Card for Migraines?  
Studies 4 and 5: CannaSoul and Israel Institute of Technology
In prior research related to the SARS outbreak of 2002, researchers found that cannabis terpenes were potentially effective antiviral agents and included specific terpenes that, when coming into contact with SARS, reduced both its impact and severity. In 2020, the Israel Institute of Technology's CannaSoul lab received approval to set itself up as a coronavirus laboratory to conduct two studies on the potential uses of cannabis to treat or prevent COVID-19.
In the first study, the lab will attempt to identify the specific molecules within the cannabis plant able to suppress the body's immune response to the coronavirus that causes COVID-19. The intention is to effectively lower but not suppress the body's immune response to the virus in order to serve as a complement to traditional steroidal treatments that do suppress the immune response.
In the second study, researchers will examine the ACE2 receptor, which occurs naturally in the human body. This is the receptor that permits the COVID-19 virus to proliferate throughout human cells. The ACE2 is a protein, and cannabis molecules are known to affect protein cells. The aim of this study is to see if scientists can use cannabis to reduce the ACE2 receptor's expression, and in so doing make it harder for the coronavirus to inject its genetics into those cells.
Like the Ichilov Center study, these two studies also aim to modulate the effect of cytokine storms and keep the body's own immune response from attacking its own healthy cells.
Chronic illness and compromised immune systems are already qualifying conditions for using medical marijuana legally in most, if not all, states and countries where medical marijuana is legal. Therefore, it is only appropriate to study how medical cannabis can be used to help treat an immune system compromised by the chronic illness COVID-19.
As this article about cannabis and coronavirus has shown, certain constituent components of cannabis may help to treat COVID-19, adding to the many therapeutic benefits of medical marijuana. In fact, research is taking place or had been announced elsewhere besides Israel as well into this potential, including in Canada where such research will be starting soon.
If you are looking to get a medical marijuana card in AZ online, register on our website to video chat with the doctor and get qualified. In the context of epidemics, which will probably now accompany humanity, the opportunity to get medical advice online becomes especially important. Thanks to our telemedicine service, you can apply for a medical cannabis card in Arizona, and get a detailed medical consultation without leaving your home at a time convenient for you. What's more, you don't have to wait long to get an online appointment. Register by clicking on the button below and within 20 minutes you will be contacted by our specialists.