Short answer: The price for weed in Arizona varies depending on the type of marijuana product and its quality. On average, the ounce of high-quality marijuana will cost you $296.62, while for the ounce of medium-quality weed you will pay $232.55. 
The average price for weed in Arizona is $296.62 per ounce for high-quality weed and $232.55 for medium-quality weed. This broad brush stroke does not take into account any of the factors influencing average weed prices in Arizona, however. For example, these prices don't account for the difference in medical marijuana vs. recreational marijuana costs in Arizona.
By learning which factors affect weed prices in Arizona, you can figure out how to get the best prices possible for the weed you buy in the state.
Benefits of an Arizona Medical Marijuana Card
To purchase and use medical marijuana requires getting an Arizona medical marijuana card, which has certain upfront costs; to be a recreational user, by contrast, doesn't require any application or registration or any associated fees. While this may seem like it makes it cost more to be a medical marijuana user than a recreational weed user, that appearance is deceiving. There are, in fact, several significant advantages to getting a medical marijuana card anyway, if you qualify – including some factors of price.
Cheaper Weed
As a medical marijuana patient, you're likely to pay much less than a recreational marijuana user for the same amount and quality of marijuana. This is because medical marijuana is state-approved medicine for patients in need, while recreational marijuana is more of a luxury good. Arizona medical marijuana law, therefore, imposes restrictions on how much a medical dispensary can charge its customers, whereas adult-use dispensaries have no such restriction.
Higher Purchase Limits
Arizona state law imposes limits on how much marijuana an individual can purchase from a dispensary and in what forms, but those purchase limits differ for medical and recreational marijuana users.
A recreational marijuana user can purchase up to one ounce of marijuana every two weeks with up to five grams of that amount being in the form of cannabis concentrates, like tinctures or vape cartridges.
A medical marijuana patient can purchase up to 2.5 ounces of marijuana every two weeks with no limit on how much of that can be in concentrated form.
By being able to buy more weed at once, medical patients can take much fewer trips to the dispensary than a recreational user who consumes the same quantity of cannabis. This, then, is another way that a medical marijuana card saves you money.
Higher Potency/Dosage Limits
There are also higher quality standards and potency limits for medical marijuana than for recreational marijuana, again for somewhat obvious reasons. As a medicine for patients with a serious medical condition, the Arizona Department of Health wants to ensure patients are only getting the highest quality of marijuana. Standards for adult-use marijuana are not nearly as stringent.
Likewise, medical marijuana users are able to purchase marijuana products of much higher potency than recreational users can purchase. For instance, edible weed products can only have 10 mg of THC per serving and only 100 mg per package; medical edibles, however, can be as potent as up to 1,000 mg of THC.
As a medical user, this gives you more bang for your buck and allows you to purchase a smaller–and therefore cheaper–quantity of marijuana to produce your desired results.
Combined, these factors should more than outweigh the one-time, biannual costs of a medical marijuana card.
Read also: How to Avoid Falling Prey to a Fake Medical Marijuana Card Scam. 
Costs for an Arizona Medical Marijuana Card
As already mentioned, you will have to make a small upfront investment to get an Arizona medical marijuana card. This investment is made up of two costs you'll pay to get your initial AZ MMJ card and to renew your AZ MMJ card every two years thereafter, those being:
Physician's medical marijuana evaluation fee
State medical marijuana card fee
The Arizona Republic estimates the total cost for a state medical marijuana card accounting for both of these fees is $200-$300 every two years. But, we at Affordable Certification are here to tell you that you can spend a lot less than that for your Arizona medical marijuana card.
How to Save on Your Medical Marijuana Doctor's Visit
Normally, a visit to a doctor for the medical marijuana evaluation required to get a medical marijuana card in Arizona can cost up to $125 or more. You can save on this cost by using our telehealth services for your medical marijuana doctor's evaluation. We charge only $99 for your initial evaluation and $99 every two years from then on to renew your card. At Affordable Certification, we also offer assistance with your ADHS medical marijuana card application for an additional $20.
How to Save on the State Fee for Your Medical Marijuana Card
The state fee for an Arizona medical marijuana card is $150 paid to the Arizona Department of Health Services (AZDHS), which you must pay when you first apply for your card and when you renew it every two years thereafter. The state does, however, offer a discounted fee of half-off (or $75) to veterans and residents on SNAP.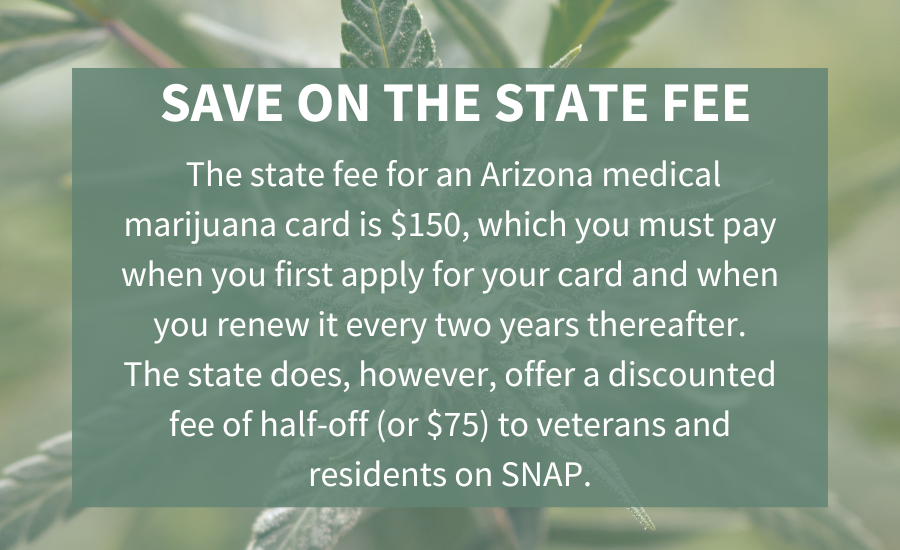 Average Weed Prices in Arizona
In 2019, Arizona dispensaries sold grams of marijuana flowers for around $8 and ounces for around $300. In 2020, the Arizona prices for marijuana and its various derivatives looked like this:
Pre-Rolled joints (or "pre-rolls") – $4.13 per gram
Flowers – $102.56 per ounce or $1,641 per pound
Edibles – $0.08 per milligram
Concentrates – $20.90 per gram
Vape cartridges – $38.70 per gram
The biggest bargain based on profit margins (or how much a particular product is priced above its wholesale price) is cannabis flower, which is marked up the least of cannabis-related products. The highest markup is in pre-rolls. The lowest prices in Arizona dispensaries based on dosage are marijuana edibles.
Next, let's drill down into some of the differences in average weed prices in Arizona based on the quality of the marijuana purchased.
One ounce of high-quality weed – $297
One ounce of medium-quality weed – $233
One pre-rolled joint containing 0.66 grams of high-quality weed – $6.91
One pre-rolled joint containing 0.66 grams of medium-quality weed – $5.42
Average Prices of Medical vs. Recreational Weed
Now, let's look at the breakdown between Arizona medical weed prices and Arizona recreational weed prices.
Here are the Arizona weed dispensaries prices for various quantities of medical and recreational marijuana compared, like the 8th of weed price Arizona medical vs. recreational dispensaries charge. The ranges in price reflect the ranges of quality represented.
One gram: $12 – $18 medical; $8 – $25 recreational
One-eighth (⅛ ounce): $10 – $60 medical; $28 – $49 recreational
One-quarter (¼ ounce): $49 – $120 medical; $49 – $90 recreational
One-half (½ ounce): $39 – $130 medical; $85 – $180 recreational
Read also: 8 Reasons to Keep Your Medical Marijuana Card in Arizona. 
Medical Marijuana vs. Recreational Marijuana Costs
Everyone wants to know: are weed prices going down in Arizona? Chances are Arizona weed prices will at least stay the same, if they don't drop, as recreational dispensaries become more widespread. In many other states with both legal medical and adult-use marijuana, medical marijuana prices actually fell after adult-use dispensaries started selling to customers.
The Arizona Daily Star reports that medical marijuana users can save between 25 percent and 75 percent on the price of the same marijuana products sold at an adult-use dispensary.
Marijuana tax rates in Arizona
Taxes are another factor to take into account when considering the costs of medical vs. recreational marijuana in Arizona. Both adult-use and medical marijuana sales are subject to certain taxes, though not the same ones or at the same rates.
Adult-use sales – 16-percent cannabis excise tax plus a 5.6 percent statewide retail sales tax
Medical marijuana sales – 6.6-percent state excise tax plus a two- to three-percent local tax municipalities can opt to charge at a rate they determine (within that restricted range)
This amounts to a total of 21.6 percent in taxes for adult-use weed purchases and a total of between 8.6 and 9.6 percent for medical weed purchases. That amounts to 12-13 percent less in taxes you'll pay on medical marijuana than on recreational marijuana in Arizona. This means that, as a medical marijuana patient, you'll save approximately $12-13 for every $100 you spend on weed compared to adult-use buyers.
How to Pay the Least for Weed in Arizona
As this article shows, Arizona medical marijuana patients generally pay far less over the long run for the weed they purchase than Arizonans who purchase adult-use marijuana. To get your medical marijuana card in Arizona easily and affordably without ever having to leave your home, sign up for an account with us or give us a call to schedule your telehealth appointment with one of our Arizona medical marijuana physicians. And, once you get your AZ MMJ card, if you find a medical marijuana dispensary near you that delivers, you don't even need to leave your home to go buy your weed.