Short answer: Choose only licensed doctors that are mentioned on the public AZ Medical Board database and know exactly the requirements and qualifications needed in order to get a medical marijuana card in Arizona besides the doctor's certification.
Getting your medical marijuana card in Arizona is easy provided, of course, that you qualify. It's also easy, however, to fall victim to any of a number of fake medical weed card Arizona scams that have cropped up. Learn what a fake MMJ card Arizona won't honor looks like and how to avoid getting one, so you can make sure you have a valid Arizona medical marijuana card and are able to legally procure, possess and use the medical marijuana you need.
Common Medical Marijuana Card Scams to Watch Out For
The Lump-sum Fee Scam
There are two fees you must pay to get a medical marijuana card in Arizona:
The doctor's fee – This, you pay to the doctor who gives you the necessary examination and certification.
The ADHS fee – This, you pay to the Arizona Department of Health.
The problem is that some medical marijuana doctors seem to be collecting both of those payments at once, promising to disperse the appropriate state and ADHS portions on your behalf. And, of those doctors, some are not keeping that promise but, rather, fraudulently keeping those funds for themselves.
Fee Lagging: A Less-malicious Variant of the Lump-sum Scam
In other cases, a well-meaning doctor may indeed have every intention of distributing your lump-sum payment appropriately, only to do so eventually, in his or her own time frame; the doctor may not, however, do it immediately or with the proper haste. This unnecessarily delays your receipt of your medical marijuana card and, thus, your ability to get your needed medicine legally.
One way to avoid falling prey to either version of these lump-sum fee hassles, if you must pay such a fee, is to be sure you get a receipt for that payment and receipts for all the subsequent recipients of a portion of that fee. In other words: the doctor and the ADHS, which also provides the receipt for your payment to the state. Affordable Certification provides receipts for all services we provide.
Fake Printed Medical Marijuana Cards
These days, all Arizona medical marijuana cards are all digital. After you submit your medical marijuana certification and pay your state fee, you simply download your digital medical marijuana card onto your smartphone or mobile device. Then, you show it to the dispensary staff along with your matching state driver's license or photo ID when requested to do so anytime you go to purchase medical marijuana. You can also present your digital card to law enforcement if the need arises.
Therefore, if any medical marijuana doctor's office insists you need a printed, plastic medical marijuana card, don't be fooled. It would seem the office is trying to scam you into paying for something you don't need. And, if the card itself is a fake medical marijuana card Arizona didn't issue, then it's also something you can't even use.
You can, however, print out that digital card onto paper if, for example, you don't have an appropriate mobile device or you simply prefer a printed card over a digital one. If you want or need a printed card but don't have access to a printer, Affordable Certification will print your card for you for an additional $20 fee, and mail it to you. You can only request this after you've already received your digital card. Again, in Arizona, having a printed medical marijuana card is optional and purely your choice; don't let anybody try to trick you into believing differently.
Read also: Renew Your Medical Marijuana Card Online. 
Tips for Avoiding Medical Marijuana Card Scams
Check Your Doctor
Besides simply being alert to the scams mentioned above, you can most significantly help yourself avoid falling prey to medical marijuana scams by knowing your doctor. This doesn't mean you have to get your medical marijuana certification from a doctor whom you already know; it simply means researching the doctor you are seeing to ensure that he or she is legitimate and licensed in Arizona.
All of the doctors on the Affordable Certification team are Arizona licensed, and you can look them up on our site and check their credentials in the free, public AZ Medical Board database.
Know What's Required
If you know exactly what is and is not required to get an Arizona medical marijuana card, then you can't be fooled by a doctor or service trying to tell you they can help you get one without fulfilling those requirements.
What Is Required
With that in mind, the requirements and qualifications you need in order to get a medical marijuana card in Arizona besides the doctor's certification are:
A qualifying medical condition on the list of those Arizona has approved for medical marijuana
A state-issued driver's license or photo ID or federal government-issued passport showing your date of birth, an Arizona address and bearing a photo that's clearly you
Again, if a doctor offers to write you a medical marijuana certification without you meeting those qualifications and requirements, don't trust that doctor, and, certainly, don't pay that doctor any money.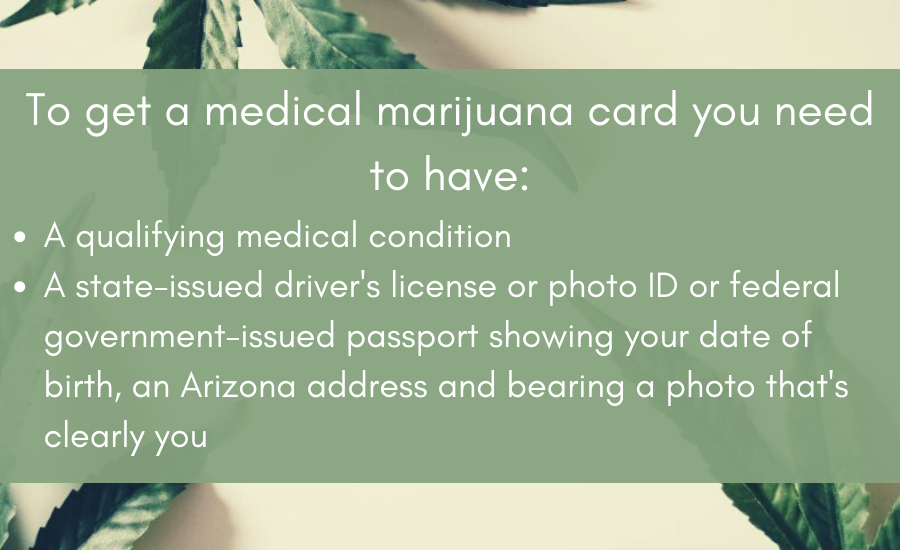 If you meet all those qualifications, what's required for you to get your Arizona MMJ card is a certification from an Arizona licensed MD. And, to receive that certification, you must undergo a sufficiently thorough examination for the doctor to determine, confirm or verify your qualifying condition. Therefore, if a doctor offers to write you a medical marijuana certification without requiring you to undergo an examination, you should be wary of this doctor, as his or her certification may not hold any weight if it or the doctor is ever challenged.
Read also: The full list of qualifying conditions for getting a medical marijuana card in Arizona. 
What Isn't Required
Likewise, if a doctor's office asks you for a credit card number or your Social Security number, beware of a scammer. You do not need to provide your Social Security number for an Arizona medical marijuana evaluation or card, and you can pay your doctor's fee however you wish.
Also be wary of any doctor who refers to your medical marijuana certification as a "prescription," because it is not. Worse is if a doctor attempts to pass off a note scribbled on a prescription pad as a valid medical marijuana certification for you, because it too is not.
Conclusion
One way to ensure your total protection from medical marijuana card scams is to use Affordable Certification to get your Arizona MMJ card.
And, in addition to the earlier-cited optional add-on service of printing your Arizona MMJ card for you, Affordable Certification also offers optional assistance in submitting your medical marijuana application for an additional $20 fee.
Avoid the expense, delay and humiliation of trying to present a fake weed card in Arizona dispensaries; use Affordable Certification and feel secure that the card you get is a real Arizona medical marijuana card and that you didn't pay any more for it than necessary.
In order to contact our doctor, you need to register on the site and choose a convenient time for an online meeting. At the consultation, you can get answers to all questions related to the use of medical marijuana, its types, and dosage, as well as get help in applying for a medical marijuana card in Arizona.